OVERCOME YOUR PAIN NOW!
There are many different types of pain! Though, when pain strikes us, we usually want to free ourselves of this limiting sensation that can severely restrict us and disrupt our life. 
No more PAIN! I mean, really, who wants to have pain? Not me, not today, not any day! I am sure you can relate here. Maybe today is your lucky day as I think I may be able to help you. I've had my fair share of pain over the years. In fact, it's why I love helping people out of pain. 
I am trained in 10+ different areas of health, so I am sure I could really assist you in overcoming your pain! Either book an appointment or call for a FREE PHONE CHAT with a pain specialist! Click "BOOK ONLINE" or CALL 0413 179 737 NOW!
Hi, I am Marlon Walker, and I am a holistic healer! I have 26 years of in clinic experience and I am trained in
EXERCISE SCIENCE,
NUTRITIONAL SCIENCE,
REMEDIAL MASSAGE,
SPORTS MASSAGE,
ORIENTAL MASSAGE,
TRIGGER POINT THERAPY,
MYOFASCIAL RELEASE,
ENERGY HEALING,
STRENGTH & CONDITIONING,
ADVANCED RESISTANCE TRAINING,
FITNESS LEADERSHIP,
PHYSIOREHAB – SHOULDER & KNEE,
PILATES – MAT & REFORMER,
CERT IV IN FITNESS,
THRIVE BREATHWORK (PRACTITIONER LEVEL),
CORE CLEARING BREATHWORK.
I have the ability to help people with their health on many different levels! One size doesn't fit all! You are unique and the mold was broken when you were born, so that means you are going to need specific treatment for your current challenges.
ANXIETY MELBOURNE 
Anxiety is the new pandemic! Some of the symptoms include – ON EDGE, WORRIED, RESTLESS, NERVOUS, DIFFICULTY CONCENTRATING, SCATTERED THOUGHTS, FEELING ALONE, TIRED, FATIGUED,  EXHAUSTED, IRRITABLE, UPTIGHT, SLEEP ISSUES, A SENSE OF IMPENDING DOOM, ACHES & PAINS. 
Anxiety really stops us feeling confident, happy and at ease. Sure we can take medication for it though, it is not really the answer. It's really just masking the symptoms and numbing us out from feeling  the emotion of what is coming up. The symptoms that we feel are really just problems of a much bigger, deeper issue that need to be addressed.
Anxiety is really an unfelt emotion (usually a fear, though it can be other unfelt emotions) and a lot of us are resisting or fighting our feelings that we have in our bodies. Sometimes we are scared of the fear and this just places another layer on top of the unfelt emotions that are already stuck or trapped in our bodies! The feelings or emotions drive the thoughts  and these are deeper than the thoughts. This is the opposite to what is usually taught. In the healing work that i do, we go under the thoughts and connect with the unfelt emotions that are driving the thoughts. Though, you can also generate fear and anxiety from your thoughts.
Overcome your Anxiety now! Move through this distress and uneasiness of the mind and body and feel peace, ease, calm, relaxed, confident and clear. Are you ready to talk about moving forward with your Anxiety ! Call for your FREE PHONE CHAT NOW 0413 179 737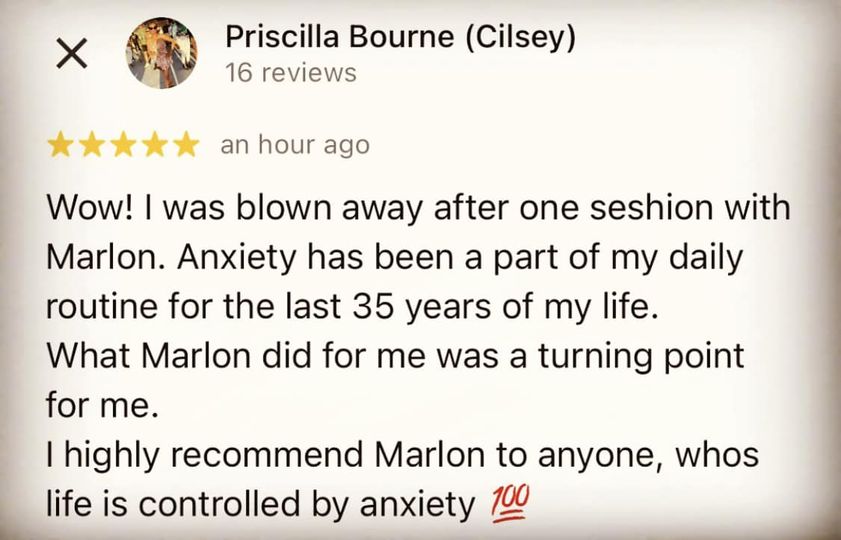 BREATHWORK

 (THE NEWEST HEALTH TREND)
Breathwork uses the breath via connected breathing to resolve the feelings underneath the issues that cause behavioral problems in our life.
Breathwork is an amazing method for giving you clarity of where you are at in your life, and moving you forward! Do you have a current issue that you would like to work on? 
I want to say not all Breathwork is equal! I use a gentle heart-centred Breathwork with my clients! I also use empathy and emotional intelligence to help facilitate or make easier the breakthrough process! It is a powerful breathwork for getting results though it is your process and your journey – meaning I can't do it for you, you have to go through it! 
Hi, my name is Marlon Walker and I have been a pain specialist using remedial massage and exercise therapy helping people overcome their pain for the last 25 years, getting amazing results. Now, I am also using the power of the breath to help people transform, working with all types of problems, pain, stress , anxiety, tension, and other health issues, to bring about amazing changes in the direction of people's lives. I highly recommend you try this if you have an issue or you want to improve your life!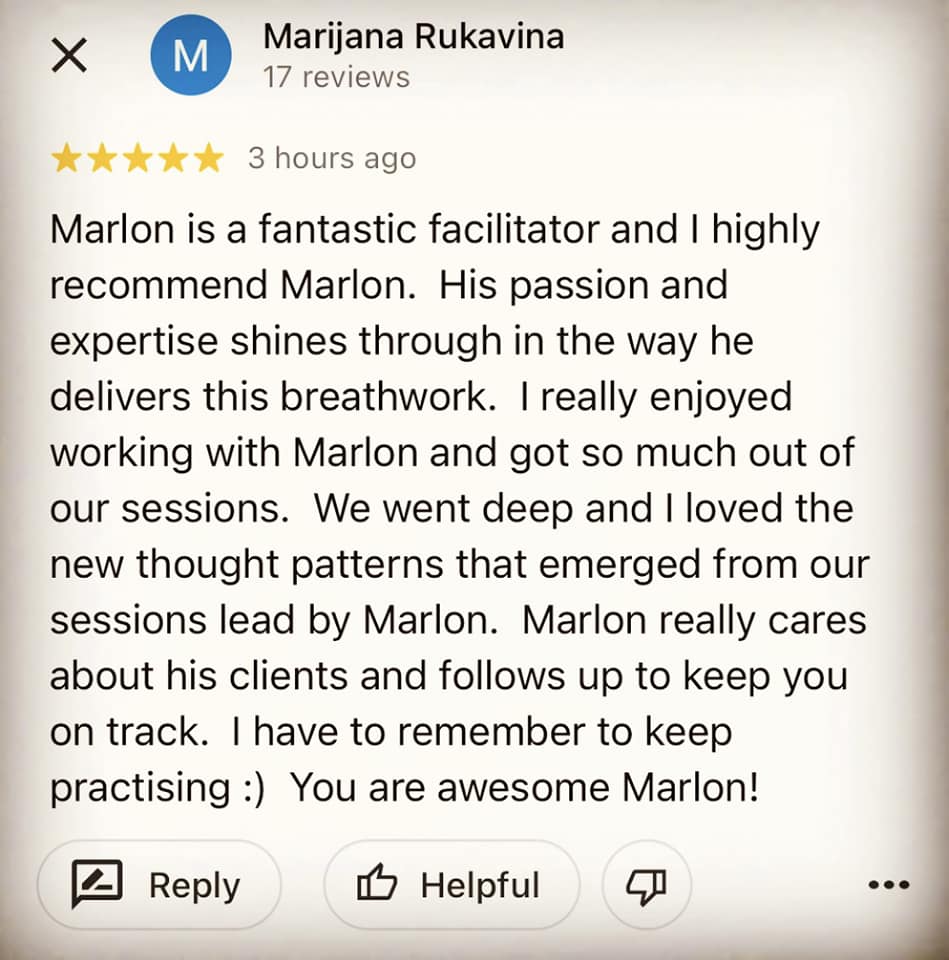 BOOK IN NOW for a "FREE 30 MIN DISCOVERY SESSION" to see whether THRIVE BREATHWORK or CORE CLEARING BREATHWORK can help you with your current life challenges.
COME & JOIN MY FREE OPEN BREATHWORK HEALING GROUP & LEARN!  https://www.facebook.com/groups/541183264220787
or
JOIN MY PRIVATE VIP HEALTH & HEALING GROUP HERE NOW!  (Receive a FREE heart centring meditation when you join) here:- https://www.facebook.com/groups/66973851415135
IS IT TIME TO MAKE A CHANGE TODAY?
Today can be the turning point in your life if you make a decision! If you don't make a decision, you will more than likely stay right where you are! It's your LIFE, so you can choose to stay where you are or choose to move forward! It's a CHOICE! Remember, you are the creator of your reality! You are totally responsible for where you are in your life! Look at your results now? What are your current results in your life? 
If you keep doing what you've always done, then you'll keep getting what you've always got!
WHAT RESULTS ARE YOU GETTING IN YOUR LIFE NOW?
Are you in pain? How is the health of your body? The shape of your body? Do you have an illness? Do you have lots of time to do what you love? Do you own your time in your day or are you working all day, for someone else? How much money do you have in your bank account? You can say, "I know this and I know that! I do this, I do that," but take a look at your results! Your results always tell the truth!
IF YOU WANT TO GET RESULTS, THEN YOU HAVE TO MAKE A CHANGE!
Where are you in your life now?
Where do you want to go to?
Are you ready to MOVE FORWARD?
Are you ready to make that change! You will have to make a decision though. Core Clearing Breathwork and Thrive Breathwork are both amazing for gaining clarity, so you can really understand what you want in your life. BOOK IN NOW for a "FREE 30 MIN DISCOVERY SESSION" to see whether breathwork can help with your current life challenges. I would love to help you! 
Whether you're looking for a personal trainer, pilates instructor, remedial massage therapist, or breathwork practitioner, this conveniently located health studio in South Yarra can benefit you. Do you need a personal trainer in South Yarra with tertiary-level qualifications in exercise science and nutrition that can guide you?
Do you need someone with 25 + years of experience that can transform your life? Do you need someone in South Yarra, that can improve your injuries and help stop your pain fast? Do you need a specialist that is trained in multiple areas, can help you, and who wants to help you?
Sports Optimum personal training, clinical pilates, remedial massage therapy, and breathwork studio is situated in the heart of South Yarra on Toorak Road and close proximity to Chapel Street and South Yarra Train Station. Sports Optimum is a boutique-style health studio, focused on moving you forward in life! Do you have a current life issue and want to take a quantum leap forward? If so, pick up the phone and call Sports Optimum now! 
CALL SPORTS OPTIMUM NOW 0413 179 737 See what others have said about Sports Optimum's personal training, remedial massage and clinical pilates work.